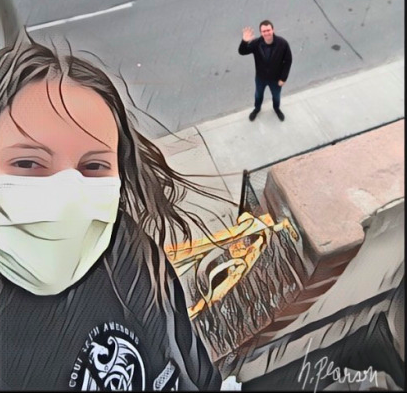 We are THRILLED to introduce our new writer, Hilary Pearson, who will be writing re-caps about our Community Meetings. Thank you to Julia Renaud for writing incredible re-caps for over 2 years – we'll miss you and we wish you very well!
Hilary's first re-cap is about our March Community Meeting – our first online Community Meeting – with the topic: Coping with Anxiety due to the COVID-19 Pandemic. Our speakers were BIST executive director Melissa Vigar; Michelle Diamond, Director, Case Management and Client Services at Function-ability Rehabilitation Services (and a former member of BIST's Board of Directors); and Jenn Bowler, Clinical Leader of Allied Health who currently serves on the BIST Board of Directors.
Welcome Hilary!
BY: HILARY PEARSON
Like many of us, living with my level of disability usually means I am inside most of the time anyway, pandemic or not. I remind myself that I am a Quarantine Queen and I was built for this. Nothing much has changed for me. I miss seeing my family for our visits every few weeks. But on a day-to-day basis, I don't have to worry about me and isolation. 
I feel more empowered and equipped to help others right now. It's the people who do not live with chronic conditions or disabilities that are struggling with the drastic change in daily life. Living in isolation sucks. But I went through that 'this freaking sucks' period a while ago, when I first realized that I couldn't go back to work, I needed to stay home, I needed to rest, and I needed to prioritize my physical and mental health.   
How do I stay safe?
The best way to keep safe is to practice physical distancing. Germs can spread as far as six feet when someone coughs or sneezes, landing on surfaces or in another person's eyes, nose, or mouth. That's why it's important for people to stay at least six feet away from one another during this time.
Here are some physical distancing tips:
Wave to people instead of shaking hands.

Arrange for grocery delivery – this is hard to do right now. There are some volunteer resources that can also help with this and other grocery delivery options do not charge delivery fees. Find them, HERE.
Arrange for medication delivery. (Most pharmacies deliver for free).
If you need help getting groceries, medications or other necessities please call BIST at: 416-830-1485 or email info@bist.ca.
What do I do if I think I have Covid-19?
Check out the Government of Ontario's Online COVID-19 Self-Assessment Tool, HERE.  
Call Telehealth Ontario to speak to a registered nurse: 1-866-797-0000.
Call your Family Doctor (most practitioners are having phone appointments.)
COVID-19 Symptoms include:
As we know, this virus is new to humans and researchers are still learning about symptoms. It is agreed that common COVID-19 symptoms include:
cough
fever
difficulty breathing
pneumonia in both lungs
​If you have a fever, cough, difficulty breathing, muscle aches, reach out to any of the above resources.
When the state of emergency was announced, I found myself taking the online Covid-19 Assessment Test daily. 
The link below lists resources that can help during the Pandemic. BIST is updating this information as much as possible
You can find information on:
If you need help accessing any of these services, please call BIST: 416-830-1485 or info@bist.ca.
Social Support
Do you live alone? Go see someone else's face.
My favourite face to see is of my 17-month-old niece. Isla sticks her face right into the camera and fills up my entire screen. She babbles about bears, elephants, pandas, reindeers, turtles, apples, cheese, bananas, blueberries, and everything else I pull out of my fridge. We played this game for two-and-a-half hours on day four of quarantine. 
It is so important to stay connected right now. FaceTime  is one of the most convenient tools for connecting with loved ones, especially if you live alone.  
On Easter Day, my whole family joined a four-way call on FaceTime. We all stared at each other while eating our favourite ice cream. Definitely quality quarantine family time. This felt weirdly normal. I think the attempt at maintaining some form of face to face interaction is significant.
Of course, I would rather hunt for Easter eggs in my parents' house with Isla and my siblings. But I didn't feel as though Covid stole a family holiday from me. I plan to frame the picture I took of our Easter FaceTime call. It's our new normal. 
You can also connect with others via BIST's Online Programs: https://bist.ca/online-programs/
The Story Mindset
 A speaker at the BIST community meeting said something that changed my mindset. 
"How will I tell a story to my grandkids about how I made it through the pandemic? What's a creative, funny thing I did to help me." 
This is the 'story mindset.' 
This concept stuck.
My brother, Daniel, insists on doing all the grocery shopping for our family during this pandemic. He shops and delivers groceries and supplies to three houses, in three different cities. Daniel wears a green face shield and blue surgical gloves.
We enjoy a physically distanced conversation, me on my balcony, Daniel on the sidewalk. I take a physically distanced selfie. Last time, Daniel launched a small plastic bag over my railing and onto my balcony. He thought I would like the sliced apples his wife packed for the drive.
The stress, disappointment and grief the world is feeling right now is in-describable, but there may be moments that will stick out. Pay attention to these moments, as reflecting on them can help get you through.
Feeling isolated?
You can call BIST at 416-830-1485 to help with problem solving, resource finding or just to chat. We answer our phone Monday  – Friday 12-4 pm.
Check out our online programs: https://bist.ca/online-programs/
Learn about Mental Health Resources which are available during the Pandemic: https://bist.ca/resources-covid-19/mental-health-supports/
FEATURE IMAGE: An edited selfie of Hilary from her balcony with her brother below on the sidewalk courtesy of Hilary Pearson
---
Hilary lives with one cat, one roommate, and one mini fridge stocked with lime Bubly water.