As part of our mission to spread brain injury awareness, BIST welcomes opportunities to speak to the media. Check out some of our past videos and media appearances below.
Over the years, BIST has had the privilege of being interviewed by Voices for Ability Internet Radio Station & The Disability Channel, listen to and watch these interviews HERE.
You can see even more BIST created content our YouTube Channel.
For media inquiries, please contact BIST's executive director Melissa Vigar at
[email protected] or 647-748-0847.
Injury is NOT Equal – Injury Prevention Podcast – Episode 6 – June 29 2021
Trigger warning: This episode contains coarse language and content that may be alarming to some listeners. Listeners' discretion is advised.
Host Brandy Brandy Tanenbaum, a Program Coordinator for the Centre for Injury Prevention at Sunnybrook Health Science Centre, interviews BIST executive director Melissa Vigar and BIST Member Roxy, an Acquired Brain Injury (ABI) survivor, disability advocate, and truth-teller on the connections of brain injury and homelessness.

Toronto-St. Paul's MPP Jill Andrew Presents BIST Petition for Affordable Internet
Queen's Park – March 25, 2021
The Disability Channel – TODAY SHOW –
December 23, 2020
BIST Executive Director is interviewed on The Disability Channel with the Unstoppable Tracy Schmitt.
Butter Torts: A Truly Canadian Legal Podcast – November 27, 2020
Brenda Agnew and Jordan Assaraf of Gluckstein Laywers interview BIST Executive Director Melisa Vigar and Transitional Support Coordinator Laura Bellon. Click on the image below to listen to the episode.
Technology Enhances Accessibility for People with Brain Injuries – Toronto Star –

Melissa Vigar interviewed about the digital divide when it comes to brain injury. Read the article, HERE.
exhibit eh: The Oatley Vigmond Podcast – August 25, 2020
BIST Executive Director Melissa Vigar is interviewed on "Exhibit Eh-OK" – a series of bonus episodes centred around positive, entertaining conversations with interesting guests, hosted by Oatley Vigmond personal injury lawyers Harrison Cooper and Lara Fitzgerald-Husek. Click on the image below to listen to the episode.
i
lobe you Podcast  
BIST's Violence Impact coordinator Isabelle Rivaletto discusses brain injury and domestic violence on these episodes of the i lobe you Podcast – telling the host she doesn't believe in barriers to service and that the most important thing you can do for another human in need to is show up. Click on each the images below to listen to each episode.
Agile – July 2, 2020

Scales of Justice – June 17, 2020

Global News Morning – June 10, 2020
BIST's Virtual Expressive Art Show: Brain Injury & the Pandemic and the Green & Blue CN Tower for ABI Awareness get a mention in Good News Stories on Global News Morning with Jennifer Valentyne. (At 2 minutes, 22 seconds.)
Global News Morning – June 7, 2019
Watch Carl Dixon of Coney Hatch / The Guess Who give a sneak peek performance ahead of our Music on The Brain Concert.

Toronto Police Service Training Video
As part of the Toronto Police Services Disabilities Community Consultative Committee, BIST played a part in creating this video about increasing awareness of hidden disabilities.

MedicAlert Connect Protect – Sept 25, 2018
Watch the launch for a new MedicAlert Connect Program which allows people with hidden conditions such as brain injury access the Medic Alert program.
Facebook Live Event – Toronto Police Service
Read more about the launch and the project, HERE.
CBC News Toronto – July 21, 2018
Toronto non-profit agency offers help to people living with brain injuries

CBC News covered BIST's first annual Back to School Post Concussion workshop, with speakers Elke McLellan, Occupational Therapist; Darcy Roza, Speech-Language Pathologist and Andrea Dermody, Social Worker. Read the article, HERE.
Breakfast Television – May 31, 2018
Watch BT reporter Kevin Frankish interview Frank Bruno and BIST executive director Melissa Vigar for Brain Injury Awareness Month 2018, HERE
Personal Health News (Toronto Star Insert)  – March 2018
BIST and OBIA took part in a special news feature on Brain Health which was distributed in The Toronto Star and featured actor William Shatner on the cover. Read our article, HERE.
CBC NEWS  – September 27, 2017
Child with brain injury shuffled through 5 York schools in 5 years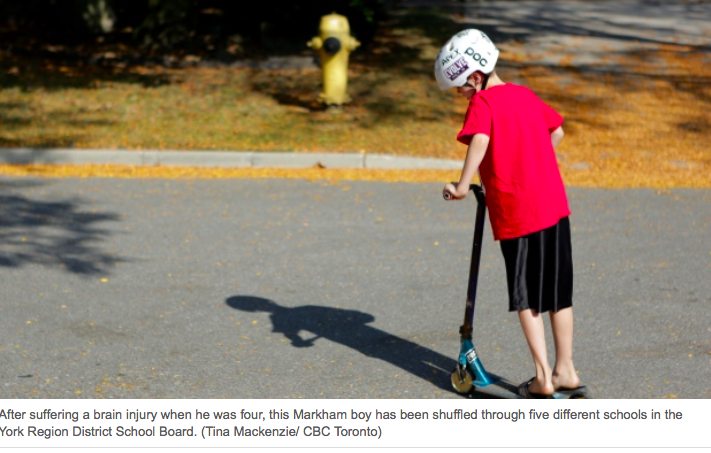 BIST board member Colleen Worsley discusses the challenges kids with ABI face in the public school system. Read the article, HERE.
Healthy Minds Canada – July 13th, 2017
Concussions and Mental Health: Invisible Injuries, Hidden Tolls
BIST board member Colleen Worsley joins a lunchtime panel discussion on Concussions and Mental Health.
 CIUT – 3 Women –  June 12th, 2017
BIST executive director Melissa Vigar with board members Celia Missios and Colleen Worsley join Dr. Angela Colantonio to discuss brain injury awareness on CIUT's 3 Women with Cheri Dinovo.
Breakfast Television – June 2, 2017
BIST executive director Melissa Vigar and board member Celia Missios kick off Brain Injury Awareness Month on Breakfast Television – watch the interview, HERE.
Not Replaceable – June 1, 2017
What if you had to use this broken phone for the rest of your life?
Our 2017 Brain Injury Awareness Month video. Posted June 1st, 2017.

Busting Brain Injury Stereotypes – June 1, 2016
"It's not just a concussion," members of our Young Adult Group bust brain injury stereotypes – part of our 2016 Brain Injury Awareness Month campaign.
Rogers TV – Daytime Toronto – June 4th, 2014
Former BIST executive director Michelle McDonald and Mix & Mingle committee chair Ruth Fernandes  of Neinstein & Associates on Daytime Toronto.