WRITTEN BY: MERI PERRA; INTERVIEW BY KAROLINA URBAN
If anyone does, Jennifer Schuble exemplifies the strength and never-quit, give 'em heck attitude of para-athletism. The U.S. army veteran has sustained two brain injuries – one from an accident during a hand-to-hand combat class at the United States Military Academy at West Point – and another from a car crash in 2002. Then, in 2004, she was diagnosed with Multiple Sclerosis.Â
"I grew up in a family of four kids, so it was like the survival of the fittest, you couldn't just sit there," Schuble said. "If you wanted to have a chocolate chip cookie you better go get it or else you won't get any."
By 2007, Schuble won her first world championship para-cycling title. She holds the Para Pan Am record for 500 meters race in para cycling, and fits in elite training in between working full-time at Mercedes-Benz. She also happens to have a Master's degree.
"I learned a lot of time management when I was at West Point," Schuble said. "I was a student, and tri-sport athlete for them. It was a very intense school … I really had to schedule everything and time manage."
At the Toronto Pan Am Games, so far, Schuble has ranked an impressive fourth place in cycling track. She also a silver and bronze medal from the 2012 Paralympic Games and a gold and silver medal, and two world records, from the 2008 Beijing Games.
"Anytime I can race my bike I enjoy it," Schuble said.
As an athlete with a brain injury, Schuble says balance is a big challenge in her sport. As an example, Schuble says she can't take corners as high as other para-athletes. Cycling requires a lot of strategy, which can also be a challenge.
"I was [the only athlete with a brain injury on the team] for the longest time and it was difficult," Schuble said.
Schuble races in the most functional para-cycling class, C1, though she says she qualifies for a lower class based on the MRI of her brain. She credits much of her recovery and abilities to the rehabilitation she received at the Walter Reed National Medical Centre.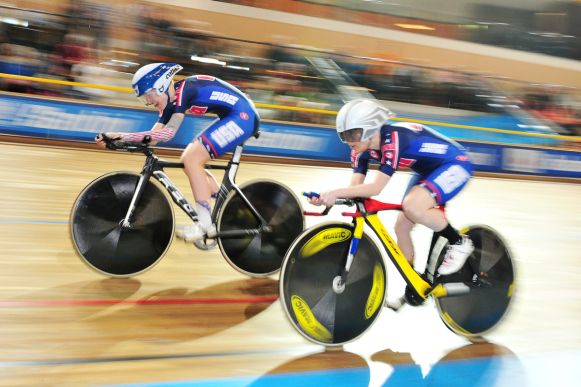 "They taught me a lot of time management skills and ways to remember things, keep track of things," Schuble said.
Currently Schuble trains six days a week, and manages to hit the weight room three of those days. She spends her weekends at the velodrome working on explosive starts.
"Basically all I do is work ride my bike, eat and go to bed," Schuble said. "And play with my two bulldogs."
Meri Perra is the communications and support coordinator at BIST.
PHOTO CREDIT ON FEATURED IMAGE: BRIAN HODES
Filed under: Athletes + ABI, Para Pan Am Games Tagged: #paratough, Jennifer Schuble, paracyling, Team USA, Toronto 2015, Walter Reed National Medical Centre


Source: BIST Blog