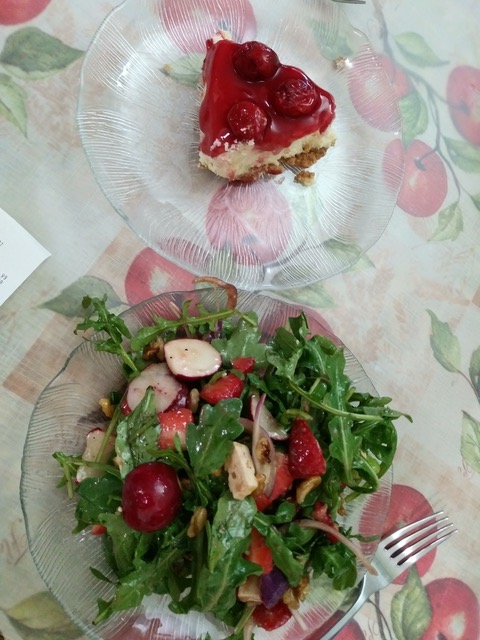 Image Description: A slice of cheesecake with strawberries on a plate with a bowl of Arugula salad next to the cheesecake
BY: JOSIE CALOMA
Arugula contains multiple nutrients, including B vitamins, calcium and vitamin K, and has anti-inflammatory properties. Josie's recipe puts her own twist on Arugula salad making it nutritious and delicious!
Ingredients:
1 pack arugula (502/142 g)
1 medium red onion
1 pack of strawberry
½ bag radish
2 pcs ripe avocado
100g Feta cheese
100g walnuts
4 pcs green onion
DRESSING:
1 or ½ cup olive oil
1/3 cup balsamic vinegar
1 clove garlic cut thinly
1 tsp black pepper
1 tsp salt
2 tbsp honey
Poppy seed (optional)
Instructions:
Slice the red onion, strawberry, radish, green onion, and avocado.
Put the arugula in a large bowl.
Put in all the ingredients into the same bowl.
Crumble the feta cheese over the other ingredients.
Put the walnuts into the bowl.
Pour the dressing over top and mix all together.
Dressing:
To make the dressing place all the dressing ingredients together in a small bowl and whisk until blended.
Image Description: (Top Left) The ingredients needed to make the salad and dressing (Top Center) Vegetables chopped into separate bowls with an empty metal bowl in the middle (Top Right) Mixed Arugula salad in a metal bowl (Bottom) Mixed Arugula salad in a glass bowl
The videos below show easy to follow steps to make the Arugula salad!
---
Josie Caloma is a volunteer with BIST.