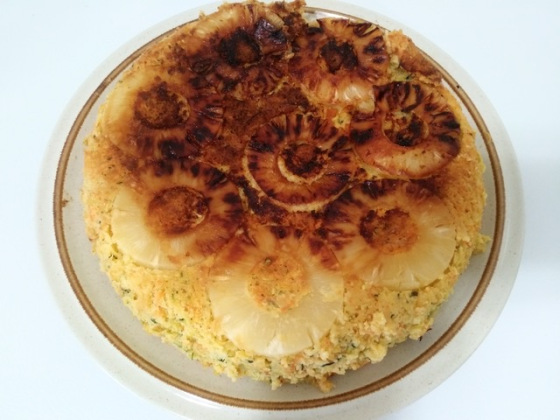 Featured Image Description: Vegetable and pineapple cake topped with sliced pineapple on top of a plate.
BY: JOSIE CALOMA
Have your cake and feel good about it! Josie's recipe creates a cake full of vegetables and there is also a recipe for a Greek salad to accompany your cake!
Ingredients:
1 box of Betty Crocker white cake mix
3 eggs
1 apple
2 medium zucchinis
1 large carrot
1 medium can sliced pineapple
Instructions:
Shred the apple, zucchini, and carrot in a large mixing bowl.
Add cake mix, 3 eggs, zucchini, carrots, and apple into the bowl. Mix all together.
Place a layer of sliced pineapple at the bottom of a pan with some of the pineapple juice from the can.
Pour the cake mixture into the pan and spread evenly.
Place the lid on the pan and place on the stove on medium heat for approximately 12 minutes.
Reduce the heat to low heat and let it cook for another 15 or so minutes.
Check the cake with a toothpick or fork to test that the cake is fully cooked.
GREEK SALAD
Ingredients:
4 tomatoes
1 large cucumber
½ red onion
½ of a small jar of pitted black olives
½ of a block of feta cheese
A pinch of oregano
2 tablespoons of olive oil
A pinch of salt
Instructions:
Slice the tomatoes, cucumber, and red onion into a bowl. Crumble the feta cheese on top.
Sprinkle oregano and add olive oil and salt.
Mix all together and serve.
Image Description: (Top) Uncooked vegetable and pineapple cake mix in a metal bowl (Bottom Left) Baked vegetable cake in a pan (Bottom Center) Unmixed Greek salad in a salad bowl (Bottom Right) Mixed Greek salad in a salad bowl
---
Josie Caloma is a volunteer with BIST.