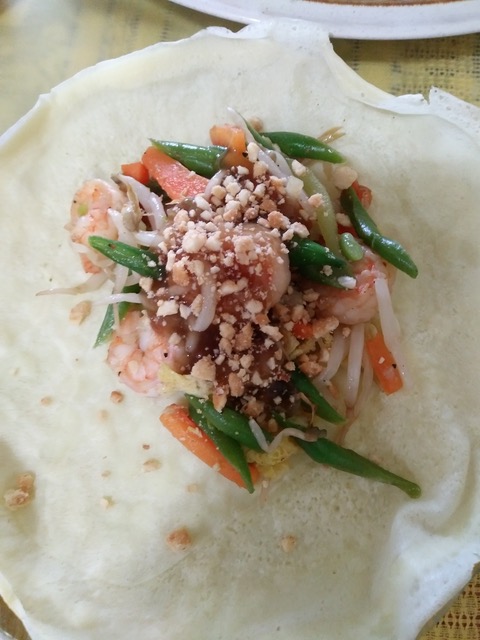 Featured Image Description: An open faced home made stir fried shrimp wrap with shrimp and vegetables on a plate
BY: JOSIE CALOMA
These delicious stir fry shrimp wraps are packed full of vegetables, and Josie even includes a simple recipe if you want to go the extra mile and make your own wraps along with the stir fry!
For those of you who may not be familiar with some of the vegetables here, we've included pictures and links to them below. Enjoy!
Stir Fry Ingredients
1 small pack uncooked shrimp
2 medium carrots
1 large chayote
200g green beans
1 pack bean sprouts
1 ½ cup Taiwan Cabbage
2 medium onion
4 gloves garlic
1 tbsp Chicken Broth powder
½ tbsp Soy Sauce
1 tbsp Oyster Sauce
½ tsp salt
¼ tsp ground black pepper
1 ½ tbsp cooking oil
Homemade Wraps Ingredients
2 eggs
¾ cup of water
¼ cup cornstarch
¼ cup All Purpose Flour
¼ tsp salt
Sweet Sauce Ingredients
½ cup dark brown sugar
2 cups of water
¼ cup cornstarch
¼ tbsp salt
1 tbsp soy sauce
Taiwanese Flat Cabbage – Image Description:  5 cabbages, which are oval shaped and light green in colour. The front cabbage is cut in half.
(Image via specialtyproduce.com)
Chayote – Image Description: 8 chayote vegetables, which are smooth, light green and pear shaped. The chayote in front and centre is cut in half
(Image via specialtyproduce.com)
Instructions
Wraps
Mix all the ingredients together to make the batter. Put a medium frying pan over medium heat with a little bit of oil or a little cooking spray. Add about ¼ cup of the mixture into the frying pan and move the pan around so that it spreads evenly covering the bottom of the pan. Flip the wrap so that both side are cooked.
Sauce
Mix the all ingredients in a medium pot, over medium heat in stirring occasionally until the sauce thicken.
Stir Fry
Sautee the garlic and onion and add uncooked shrimp (Make sure the shrimp is peeled and tail is off). Add the green beans, cabbage, and beans sprouts, then add chicken broth powder, soy sauce, oyster sauce, salt and black pepper. Cook for 5-10 minutes, stirring occasionally over the medium heat. Make sure that it doesn't get over cooked. Assemble the wrap. Add some of the vegetable stir fry into a wrap, top with some sauce, fold it up and eat.
---
Josie Caloma is a volunteer with BIST.