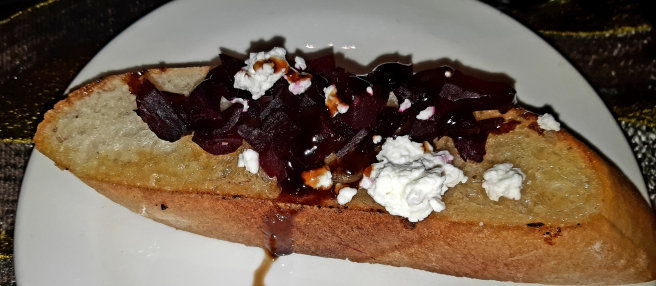 BY: JANET CRAIG
Nothing says fall like root vegetables right? Janet Craig brings you a new take on beets – the reddest vegetable of them all – with a beet bruschetta recipe that will blow your mind!
The easiest way to do this recipe is with canned beets, but if you like them fresher, check out these ways how to cook beets, HERE.
Ingredients
2/3 cup of balsamic vinegar reduced down to 1/3 cup in small saucepan on medium heat until syrupy. Find out how, HERE
1 tsp garlic powder
1 can of beets drained & chopped
Feta cheese or goat cheese
Bread for toasting, baguettes work well
Directions:
Combine ingredients. Place on toasted bread with crumbled goat cheese or feta. Grill under broiler and serve.
FEATURED IMAGE: JANET CRAIG
---
Chef Janet Craig recipes are simple, healthy, delicious and ABI friendly. You can find out more about her
HERE
.