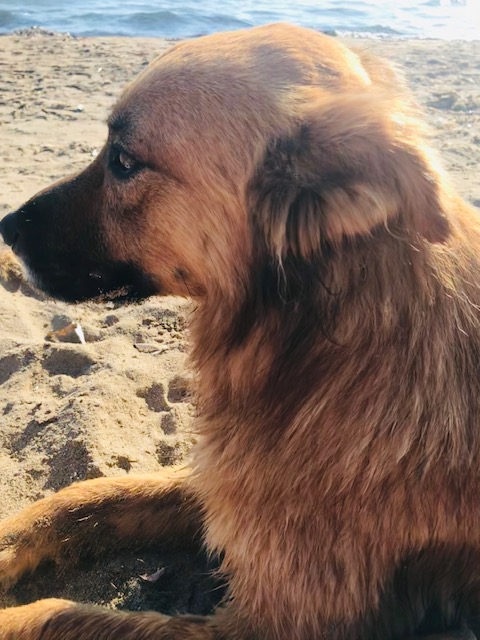 FEATURED IMAGE DESCRIPTION: A side profile picture of a dog, the background is a sandy beach with waves.
BY: DANIELA MELI
I absolutely L

VE this dog.
Lika, is a stray dog who lives on a Sicilian beach called the Coast of Umbra. So before I knew her name I called her Umbra, because her fur is also the same colour as Umbra.
Later, I found out that the community had given her the name Lika. Everybody loves her —how can you not? She is so sweet, gentle and lovable. She immediately came to us at the beach and laid down beside our towels.
She would snuggle her nose into our feet and just hang out with us.
One day she followed us to the beach house so I gave her water and something to eat. She would show up at the crack of dawn throughout the week that we were there, and I kept giving her food, water and belly rubs.
Although my mother doesn't really care for animals, she pet her when the pup greeted her. She even made Lika scrambled eggs one morning.
My mother and I went to the beach house at a very sad time, when my brother passed away.  My heart broke for my mom. I wish I could take away even half of her pain.
I am amazed at how strong my mother's faith and trust in God is. I wish I could trust in God the same way.
At the beach even the ocean reminds us that everything in life is temporary. Life on earth is temporary.
To not get attached to "things" or ideas of how things "should be", or what our ego wants. To let it go, trust that God has a plan for us, and let Him guide our lives. 
I will miss going to church with my mom, listening to Don Bruno explain the gospel, and hearing the beautiful choir.
As much as I've been a support to my mother during my visit in Sicily, she also has been my support. She is my rock. It will be very sad to leave her and Sicily.
Before I left we visited our relatives at the coast of Umbria. As I walked along the beach, I saw Lika from a distance playing in the ocean's waves. Seeing her play without a care in the world made me smile. I am happy that I encountered this adorable dog. Animals are healing 

Daniela Meli