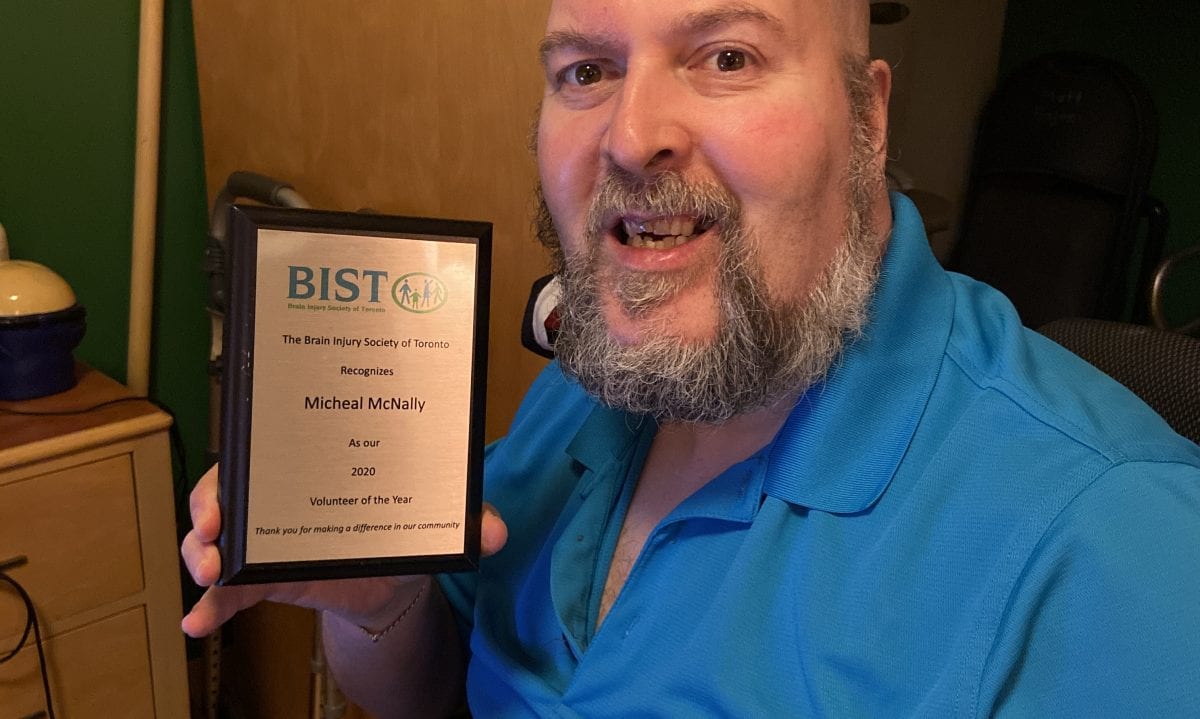 Image Description: Mike McNally, a white man with a beard shows off his BIST Volunteer of the Year Award from 2020. He is smiling and wearing a blue shirt.
Just in time to celebrate Volunteer Appreciation Month, here is a shout out to our Volunteer of the Year Winner, (Big) Mike McNally.
Mike won the award for his continuous commitment to the BIST Heroes Run, Walk or Roll, an event he looks forward to every year when he smashes his record of how much he walked the year before. Even coming to our fall event is no small feat, Mike has to fundraise to pay for wheelchair accessible transportation from his home in Oshawa to Toronto.
In 2019, Big Mike and his team raised an incredible $18,000 for BIST!
There's so much to say about Big Mike, and you can more read about him, HERE and read a quick question and answer with our Volunteer Hero below.
1) The reason I began volunteering for BIST was:
"[It's] very exciting. It allows me to interact with other people that have brain injuries like me. And BIST provides me with the opportunity to talk about my injury and to hear how others like me deal with everyday challenges."
2) What inspires me most about BIST is:
"What inspires me the most is having people other than family that are there to help provide the support I need."
3) A quote/motto I try to live by is:
"Don't let yourself or others tell you what you can't do. Just do what you want to [do]. Just go for it."
4) Whenever this Pandemic ends, I am most looking forward to:
Seeing my wife and children, my brothers and their families and my close friends.
In 2018, Mike generously shared his time and story with BIST of how he trains for our Heroes Run, Walk or Roll. You can watch these videos below:
Update:
We are busy preparing our 11th Annual Heroes Run, Walk or Roll for the fall of 2021. This will be another virtual event due to the current Pandemic situation, but we are aiming to make it as FUN as possible while helping our heroes raise money to support people living with the effects of brain injury. We can't wait until we can see our Mike, and all our heroes, safely in person when this Pandemic ends.
For more information go on our Heroes, Run, Walk or Roll: www.bist.ca/5K
We miss you Mike!