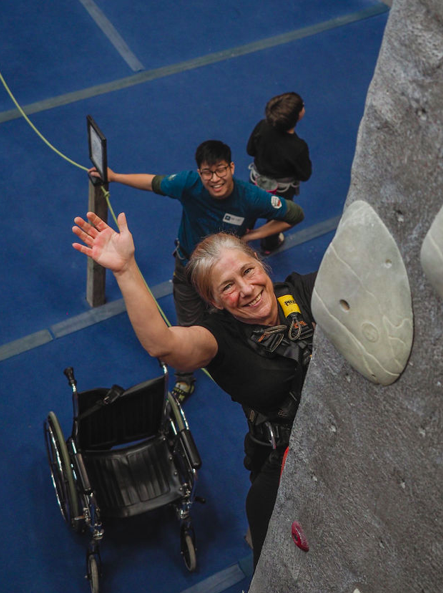 BY: ALISON 
Having a disability just means that you do things differently, but it doesn't have to prevent you from engaging in physical activities. Thanks to Canadian Adaptive Climbing Society, people with different abilities can now safely rock climb in Toronto, ON and Squamish, BC.
Canadian Adaptive Climbing Society offers a therapeutic indoor climbing program that is currently run by occupational therapists. Using adaptive equipment (e.g. various harnesses, counterweight system, etc.), people with different physical abilities due to circumstances such as spinal chord injuries, and brain injuries (including invisible disabilities) can safely and comfortably rock climb. The advantages of climbing go beyond the physical benefits of utilizing muscle groups and promoting neuroplasticity. It also has cognitive benefits like practicing planning and problem solving. Furthermore, climbing is a social activity, a form of mindfulness, and it's empowering; it fosters courage, self-trust and self-esteem which transfer to other areas of life. I attended one of their free Try-It sessions in Toronto and here was my experience.
My Experience Trying Adaptive Climbing
The session started off with brief introductions and an inspirational story from Jaisa, the lovely woman responsible for helping Canadian Adaptive Climbing Society to launch its Therapeutic Climbing program in Toronto. When she first discovered adaptive climbing, she was only able to climb using the medial part of her feet. Then, gradually, she was able to climb using the tips of her toes. Nine years after her injury, she's still seeing improvements and is now also able to climb using the outer sides of her feet. Thanks to her and her team, many other people will be able to experience therapeutic adaptive climbing.
The occupational therapists and volunteers that I met were really nice, knowledgeable and passionate about climbing. Prior to our arrival, the team had already been informed of the participants' health conditions and limitations, and were sensitive, mindful, and extremely helpful with appropriate recommendations. So, I felt very safe. There was at least one volunteer/therapist paired with each participant. Participants are encouraged to learn how to tie the ropes, which is great for brain training and independence. In order to climb, I needed the counterweight system, which is a rope and pulley system that connects the climber to someone else. This reduces the climber's body weight (i.e. pressure), thus making it easier to hold themselves up and climb upwards. You can adjust the level of difficulty by choosing someone that is heavier or lighter to be your counterweight. When I was connected to someone heavier than me, it felt as if my body was already being pulled up. With that assistance, I was able to climb the wall all the way to the top, more than once.
I had tried indoor rock climbing before my brain injury and easily climbed a 100-foot chimney my first time. But during the adaptive climbing session, I noticed that aside from having weakness and numbness in my extremities, my body didn't move instinctively like it used to. I really had to think about how to position my core, when to turn my body, and I had to purposely rely on my legs more than my arms. After a brain or spinal cord injury, our movement and connection with our bodies gets disrupted, and I think that climbing regularly would help with moving efficiently and naturally again.
I want to note that the stimulation from the bright coloured rocks and tall walls made me a bit nauseous part way through the session. Nevertheless, I hope that you'll consider registering for one of Canadian Adaptive Climbing's free Try-It (sign up to get contacted for a session in Toronto) sessions to see if this activity is right for you!
PHOTOS:  SUSAN CZYZO
---
'Mind Yourself with Alison' is a collection of self-help tips, research, and personal experiences dedicated to helping people thrive after brain injury (or other health problems). Check out Alison's other BIST Blog articles Women and Brain Injury: What you need to know and How to be a Good Friend to a Survivor. You can follow her on Twitter, HERE.