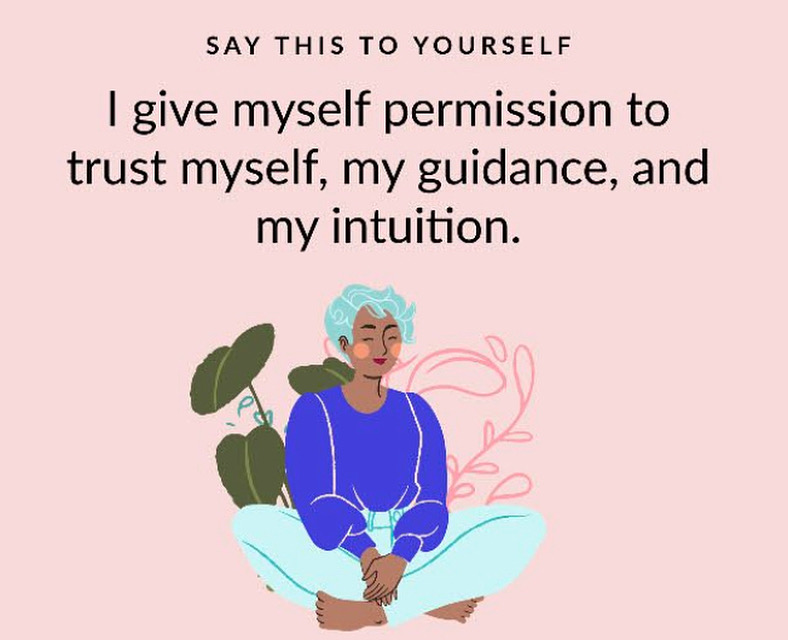 BY: FRANCE THERIAULT
FEATURED IMAGE DESCRIPTION: Clip art of a woman with short blue hair, rosy cheeks and brown skin, sitting with her legs crossed and her eyes closed. She is smiling, and has large plants behind her. The caption reads, 'I give myself permission to trust myself, my guidance and my intuition.'
A Facebook memory recently appeared on my feed, a post I wrote on August 30th, 2017. At that time, I was dealing with debilitating post-concussion symptoms, living with a multitude of emotions and feelings which agitated my whole being. I had also just begun this state, I wrote:
I WANT TO REPRESENT POSSIBILITIES 
Since then, my life has improved more than I could have ever imagined. Trusting myself and being grateful for everything and everyone in my life lead to magical opportunities.
The sentence, 'I want to represent possibilities' is exactly what I decided to follow and to be my guide as I made my way. Me, a middle aged woman who had never lived alone. I saw this new chapter in my life as a possibility to successfully create something fabulous.
Seven years later, I continue to reflect on the possibilities that arise as I learn a few life's principles.
There are infinite possibilities to create my life differently now that I understand I am the sole governor of my destiny.
Possibilities to slow down and to observe what is important for me now, today, tomorrow and after tomorrow.
Possibilities to continue to heal and to recover from the physical discomforts, emotional disturbances and cognitive inabilities acquired as a result of my Traumatic Brain Injury.
Countless possibilities to explore the world around me and in me.
Possibilities to discover so many inner gifts.
Possibilities to edit my life over and over again.
Possibilities to go on adventures and to have fun.
Possibilities to focus on what I really want and to acknowledge what I don't want.
Possibilities to fall in love again; to love and be loved.
Possibilities to dream and follow my heart.
Possibilities to take risks, to make mistakes and to fail without abandoning myself.
Possibilities to soften, to expand and blossom.
Possibilities to take space, to hold space for my dreams, my truth and my passionate desires.
Possibilities are infinite.
I often remind myself I am open to what I don't know yet, including: possibilities, opportunities and serendipity!
I am curious. What possibilities are you seeing for yourself?
---
Follow France on Instagram at Standingbyyourside65 where she shares stories and insights about living a beautiful life and meaningful life nine years after having a Traumatic Brain Injury from a cycling accident.