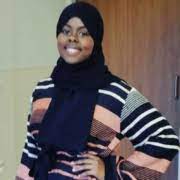 Our May, 2021 Community Meeting focused on Race and Brain Injury, featuring speaker Samira Omar.
Speaker: Samira Omar
About Samira 
Samira Omar is a PhD Candidate in the Rehabilitation Sciences Institute at the University of Toronto and a trainee in the Acquired Brain Injury Research Lab. Her doctoral research foregrounds narratives to reveal and unpack how institutional anti-Black racism manifests in rehabilitation and shapes the everyday occupational life trajectories of Black survivors of Traumatic Brain Injury and their caregivers. Samira currently co-lead and organized the first trans-institutional conversation on equity, justice, and white supremacy in occupational science and occupational therapy designed for students and by students in Canada. You can follow her on Twitter at: @_samso
Racism in the Health-Care System and Why it Matters
Samira joined us for our May Community Meeting to discuss anti-Black racism and how it can show up in different ways such as unconscious bias in the health-care system. She spoke with the perspective of a sister navigating the health care system with family while experiencing anti-Black racism and how it influenced interactions between her family and health-care professionals. Samira says, there is an assumption in the health-care system that one size fits all and that everyone has the same opportunities in their recovery and rehabilitation. In this presentation, Samira emphasized the violence, bias, judgement and blame that Black people face when trying to access health-care, and how all too often, Black people need to fight for their right to live.
When Black people face unequal access to healthcare, housing, education, employment and other resources and opportunities, why are health-care professionals ignoring racism and minimizing it's impact on Black peoples' health and recovery?  Samira emphasized the importance of recognizing the intersectional social categories such as race, class, and gender, as a critical first step in addressing and seeing systemic and equitable change in the health-care system. While racism and how it can impact Black people and other racial minorities is nothing new to most of us, we don't often look at it from a healthcare perspective and how everyone is not treated equitably. She says that equity means recognizing racial health disparities in a "non-Black healthcare reality."
Samira concluded her presentation by sharing the UN General Assembly proclamation that 2015 to 2024 is the International Decade for People of African Descent to gain recognition, justice, and development. This resolution was established to strengthen national, regional and international action and cooperation in relation to the economic, social, cultural, civil and political rights by people of African Descent.
Samira's presentation encouraged critical thinking and reflection on our own experiences and anti-Black systemic racism. And with that, I will leave you with a question of reflection that I was left with at the end of the presentation. When we all have different lived experiences and intersectionalities, why does the healthcare system try to treat us under a one-size fits all mold?
For more information on Anti-Black Racism & Health Care
Black Health Alliance is a community-led organization that looks to improve the health and well-being of Black communities in Canada