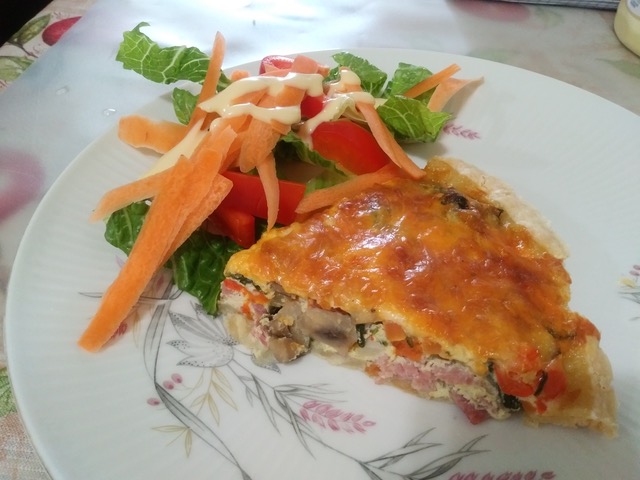 Featured Image description: A slice of spinach and cheese quiche with a side of vegetables drizzled with dressing on a plate
BY: JOSIE CALOMA
Quiches are French tarts filled with various, savoury fillings. Josie's recipe is easy to follow and makes a simple yet delicious meal!
(Makes 2 Quiches)
Ingredients:
5 eggs
1 small pack of sliced ham
1 small box of baby spinach
1 box of frozen pie shells (come in a package of 2)
2 cups shredded cheese (mixed cheese)
1 cooking onion
2 cloves garlic
1 pack sliced mushroom
2 carrots
1 red bell pepper
2 tablespoons olive oil
1 ½ cups of heavy cream
Salt and pepper
Instructions:
Preheat the oven to 350 degrees.
Place the 2 frozen pie shells on the baking tray, fork both of the shells and set aside.
In a medium bowl add 5 eggs, heavy cream, and salt and pepper. Whisk together and set aside.
Chop all of the vegetables and ham except the spinach.
Preheat the frying pan and add 2 tablespoons of olive oil. Stir fry onions and garlic.
Add carrots, spinach, mushroom, bell pepper into the pan and stir until the spinach softens. Strain the mixture to remove all the water.
Place the chopped ham at the bottom of each pie shell.
Place the vegetables in both pie shells and spread evenly. Then top each pie shell with cheese.
Pour the egg mixture slowly and evenly in both pie shells without over-filling and place in the oven for 50 minutes. (Until golden)
Image description: (Left) 2 uncooked quiches topped with cheese on a baking tray. (Right) 2 cooked quiches topped with melted cheese on a baking tray.
---
Josie Caloma is a volunteer with BIST.