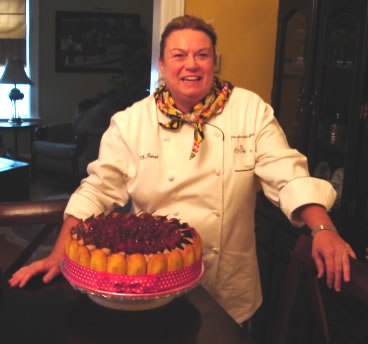 BY: JANET CRAIG
Welcome to Blow Your Mind Recipes – a new column by Chef Janet Craig. Janet's recipes are simple, healthy, delicious and ABI friendly.  In her first post, Janet tells us about her self and gives us a diabetic-friendly chocolate chip recipe.
I worked in the corporate world until I had a massive stroke at the age of 40. I was in the chairlift, teaching skiing at Mount Tremblant, when it happened. Until then, I had been a healthy, active non-smoker.
I suffered two months of severe migraines and did not consult my doctor. Finally, I got medical help, and I ended up being air lifted into Montreal Neurological Institute. That probably saved my life.
I found out much later that my mother had a stroke at 37-years-old, but at the time (and being Irish) she referred to it as the 'spell'.
I had a very long recovery in a nursing home because at the time Toronto had no beds available in a rehab facility. For many years after that, I had physiotherapy and worked relentlessly to recover. For the most part, I have.
It was then I decided to change my life and return to my true love: cooking, creating and teaching people how to eat properly. I opened my personal chef's business in 2000, Satisfied Soul Inc.
Within the first year, I had three chefs working for me, and we decided to move to the Belleville area to "slow down". We moved here 10 years ago, and I have taught culinary classes at Loyalist College, Kalays Restaurant and Waring House.
These days, I write articles for several local magazines including Quinte & County Living, Watershed and Infinity. I speak publicly on the 100 Mile Diet and about healthy eating for The Heart and Stroke Foundation and The Canadian Diabetes Association.
Since a residual effect of the stroke is a limp, I ended up having knee replacement surgery and I anticipate the other knee will need to be done as well. For that reason I am retired now and shut down my website www.satisfiedsoul.com .
In my retirement, I decided to write, consult and volunteer.
Diabetic 
Cookie

 Recipe

2/3 cup pureed white beans

2/3 cup unsweetened applesauce

2/3 cup frozen apple juice concentrate, thawed

2/3 cup frozen pineapple juice concentrate, thawed

4 egg whites

2 teaspoons vanilla

4 to 4 1/3 cups whole wheat flour

1 teaspoon baking soda 
1 teaspoon salt

1 cup chocolate chips

Preheat oven to 375 degrees. Spray cookie sheet with non-stick cooking spray.

Combine pureed beans, applesauce, concentrates, egg whites and vanilla. Slowly add remaining ingredients. If dough is still too wet add more flour.

Drop cookie dough onto cookie sheet in round teaspoonfuls with a 2 inch spacing. Bake 8 to 10 minutes or until light brown. Remove from cookie sheet after two minutes. Makes 4 dozen cookies.

Filed under: Blow Your Mind Recipes Tagged: Blow Your Mind Recipes, Diabetic Cookies, Janet Craig