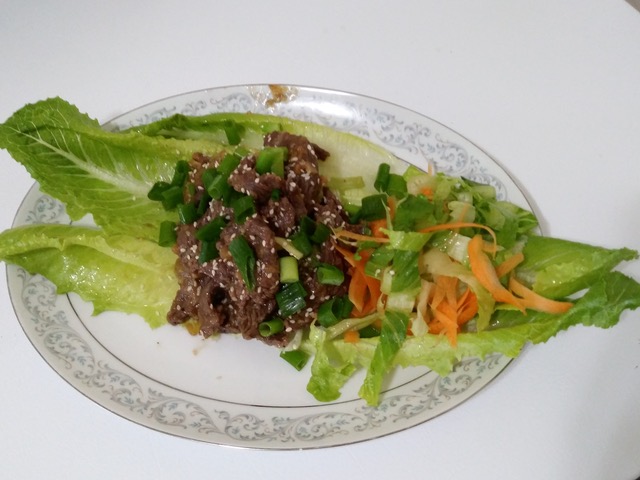 Featured Image Description: On a plate, beef bulgogi topped with sesame seeds and green onions next to a salad all on top of a piece of lettuce.
BY: JOSIE CALOMA
Bulgogi, known as 'fire meat' in Korean is marinated beef which can be grilled or stir-fried. Follow this recipe for a delicious taste of this classic Korean dish.
Ingredients:
6 cloves garlic minced
1 pound beef top sirloin or flank steak thinly sliced
1 medium cooking onion
Beef Marinade:
1 medium pear, peeled, cored and minced
2 green onions, thinly sliced
4 tablespoons soy sauce
2 tablespoons brown sugar
1 tbsp oyster sauce
1 tbsp sesame oil
1 tbsp rice wine
1 tbsp sesame seeds
1 tbsp ginger minced
1 teaspoon of ground black pepper to taste
1 teaspoon of salt to taste
Instructions:
In a large bowl, add the marinated beef. Add the all of the remaining ingredients and mix well.
Place the bowl in the fridge to marinate for at least 3 hours or overnight.
Slice and saute the medium onion over the stove on medium heat. Add the meat and stir occasionally until the meat is cooked.
Image Description: (Left) beef bulgogi next to a salad on a plate. (Right) beef bulgogi and salad on top of lettuce on a plate topped with chopped green onions.
---
Josie Caloma is a volunteer with BIST.